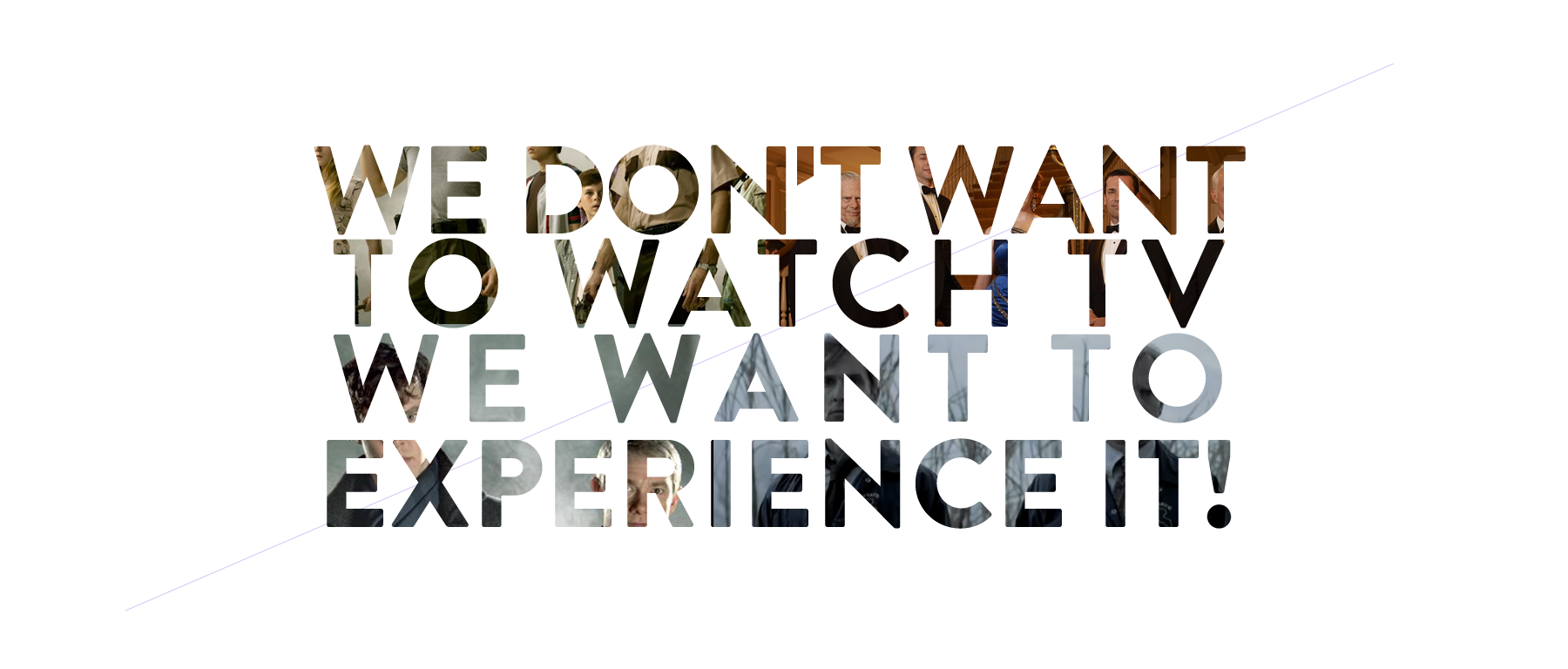 Sony Bravia TV
Case Study, GUI, ReDesign
Study Case Project
May'15
Creative Direction, UI/UX, Informational Architecture
Project Background
A few months ago I decided to replace my old TV with a newer one and embrace new Smart TV technologies… After long research and even longer decision making between several TV models I decided on Sony Bravia KDL 50w828b. Being an UI/UX guy I was excited and eager to have it ASAP, to run the setup and enjoy the user experience one should expect from SONY! Not so fast…My enthusiasm was quickly diminished within the first 30 minutes of the first encounter: the TV's interface looked unfinished and the informational architecture lacking integrity. Easy & human isn't Bravia TV's strength, unfortunately. A lot can be said about hardware and remote control, but I will focus ONLY on User Interface and design.
It is not uncommon for a designer to do a product redesign to showcase his skills and gain design community reputation, which is not the case here. My humble intention is to put to work my knowledge to design a product that will suit my needs and rise up to the product user's exception.
Get familiar with current Sony Bravia TV interface before going in details with new GUI Study Case.
Research
Six months ago my family became user of the Sony Bravia TV product, since then I continuously witnessed the frustration and the disappointment related to the product experience. I did my best to write them down, hoping that one day I will get a chance to experiment with a new TV GUI on my spare time. Before diving too deep in the design I dedicated a significant amount of time to read and research, review articles that would help me to build the study case.
Please scroll to the bottom of the page for references.
Personas & Scenarios
My family and friends were the user group that helped me build the personas and scenarios and early test the product. I set several goals for the project, one of them was to design it on MVP principles adapted to project specific nature: learn – design – test. The results amazed me. If you read UX books you will find common patterns (conceptual models) through most of them, but what a pleasure it is to see them revealing themselves during testing, to understand which work better for the current project and why they do so.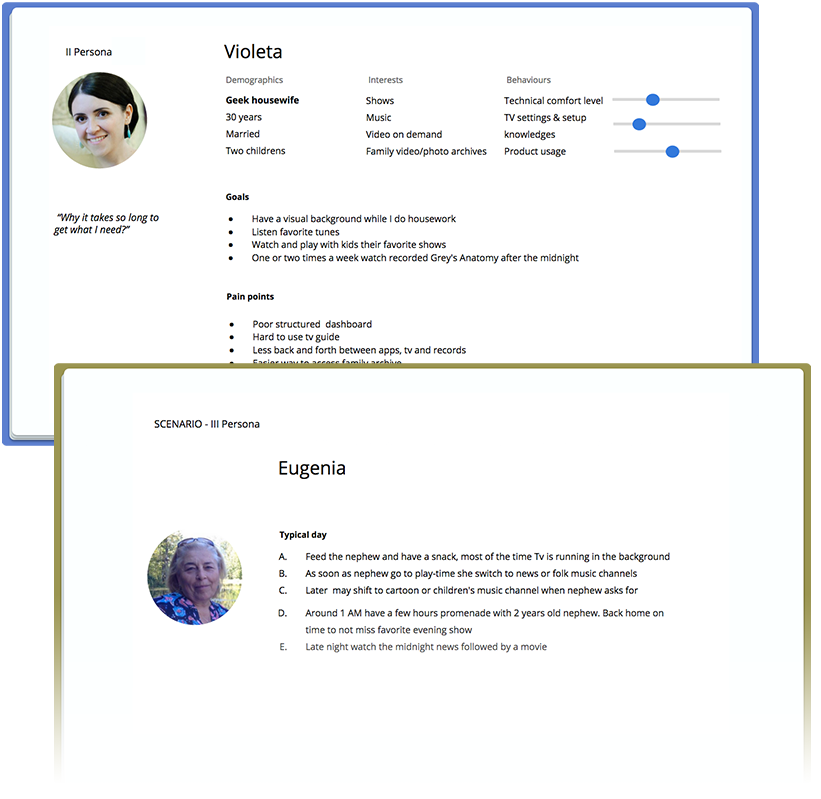 The pain points
I tried to keep it as simple as possible and the results are crystallized to a list of problems:
Unfriendly dashboard
No way to personalize settings
Poor Live TV experience
Missing On Demand option
Difficult to understand tv guide
No one click record option
Too many steps to access photo/video archive
Information Architecture
The Core of TV GUI is Live TV as most of time is spent watching shows, news and programs. The goal of the diagram is to simplify shifting between apps or external inputs (USB HDD, NAS or Digital Camera). Current GUI is difficult to use, it has no support for multitasking. Open an app or reading content from external device while watching live TV is like restarting a computer, literally.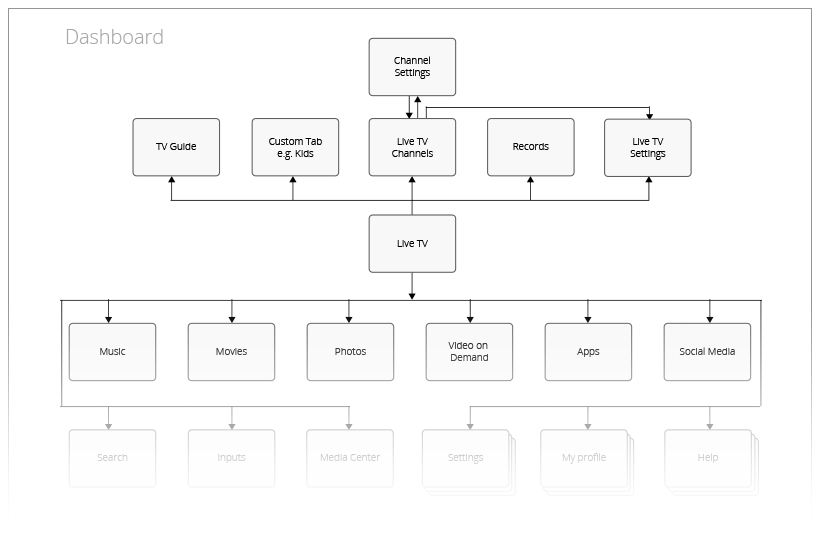 Functionality
Scenarios & Personas are the foundation for product's features & functionality. The "must" and "good to have" are part of this iteration.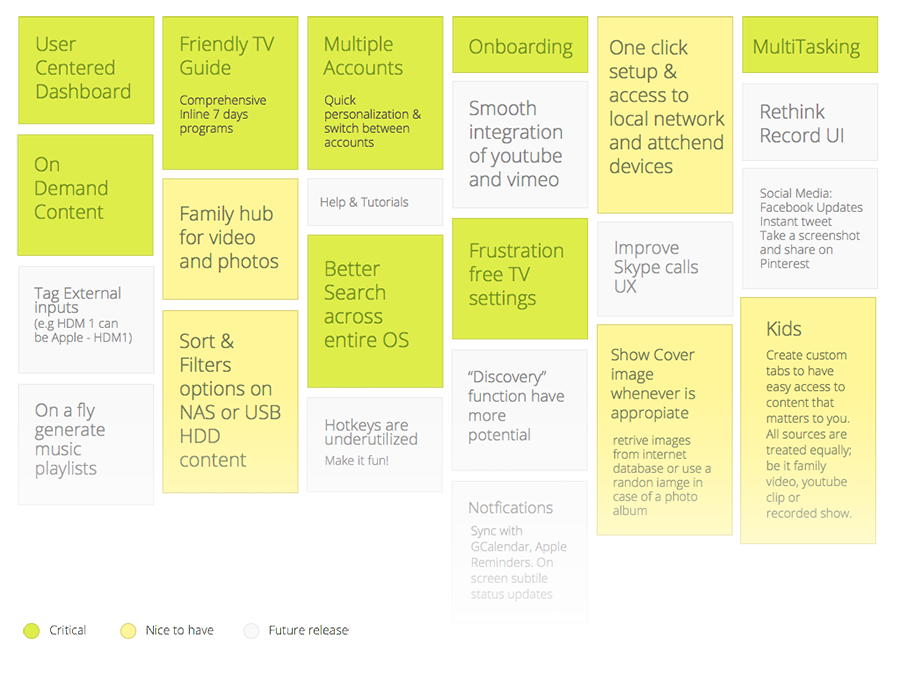 Sketches
Wireframes
Rough pen & paper was the starting point. I like to test UX assumptions as early as possible – I agree with Steve Krug's theory that to test an idea there is no need for a clickable wireframe or HiFi mockup, even a napkin sketch works. It was also interesting to observe the user's feedback on the rough sketches. This preliminary feedback and comments were addresses and included in the second round of wireframes, this time digitalized ones.
Initialize
Live TV
Dashboard & Discovery
Mood Board
True, the Mood Board is helpful and I like to have it before starting the prototyping.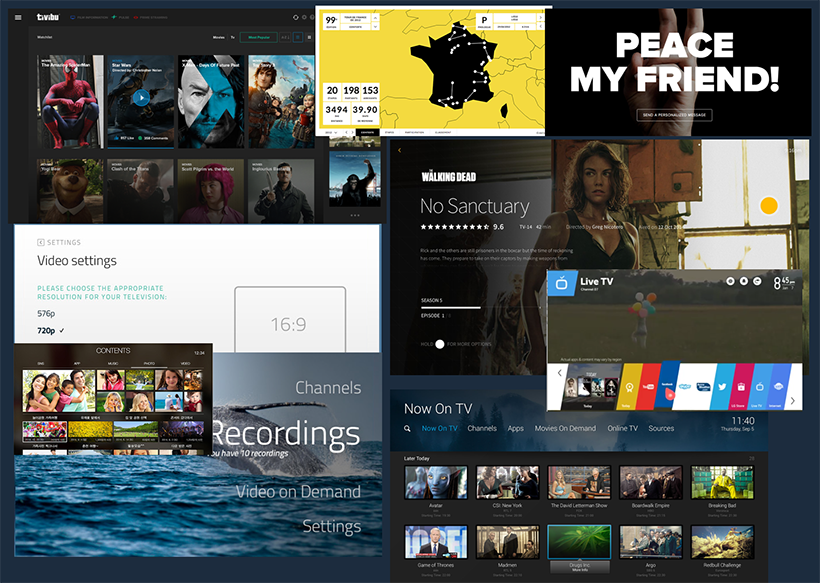 Style Guide
Brandon Grotesque and Open Sans are the fonts used for the new GUI. Skeleton has 24 columns with 8px baselines. I used big typography mixed with subtle color palette.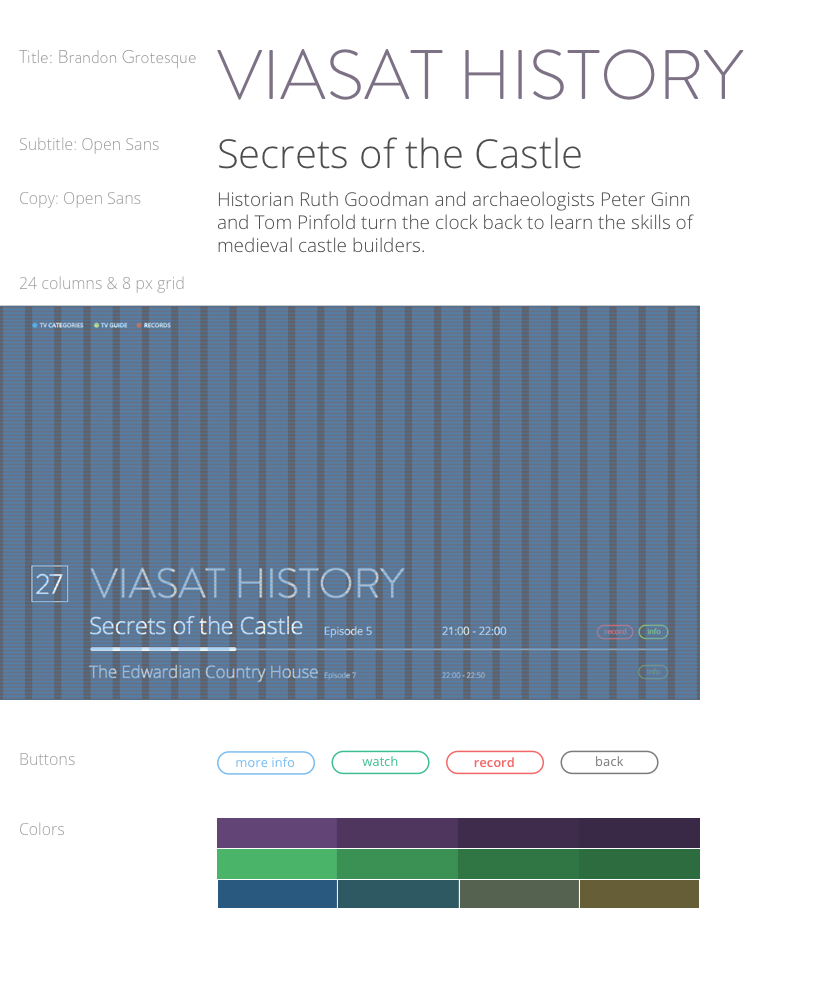 Setup
Clear and concise step by step instructions. Acknowledge current step the user is and also the number of remaining steps.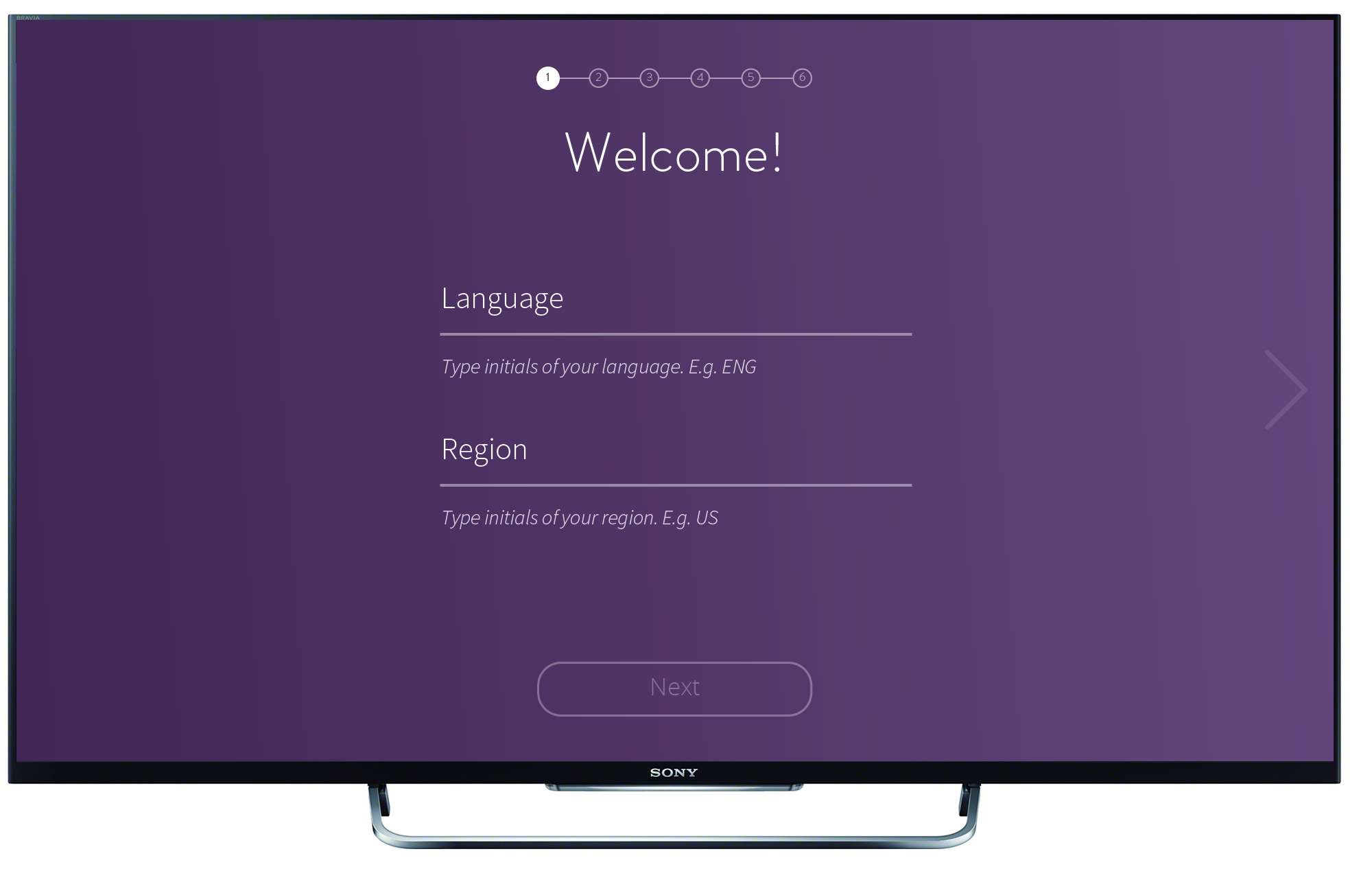 Live TV
Easy to scan, non-intrusive informative interface. Have the TV guide, recording and channels accessible at any moment.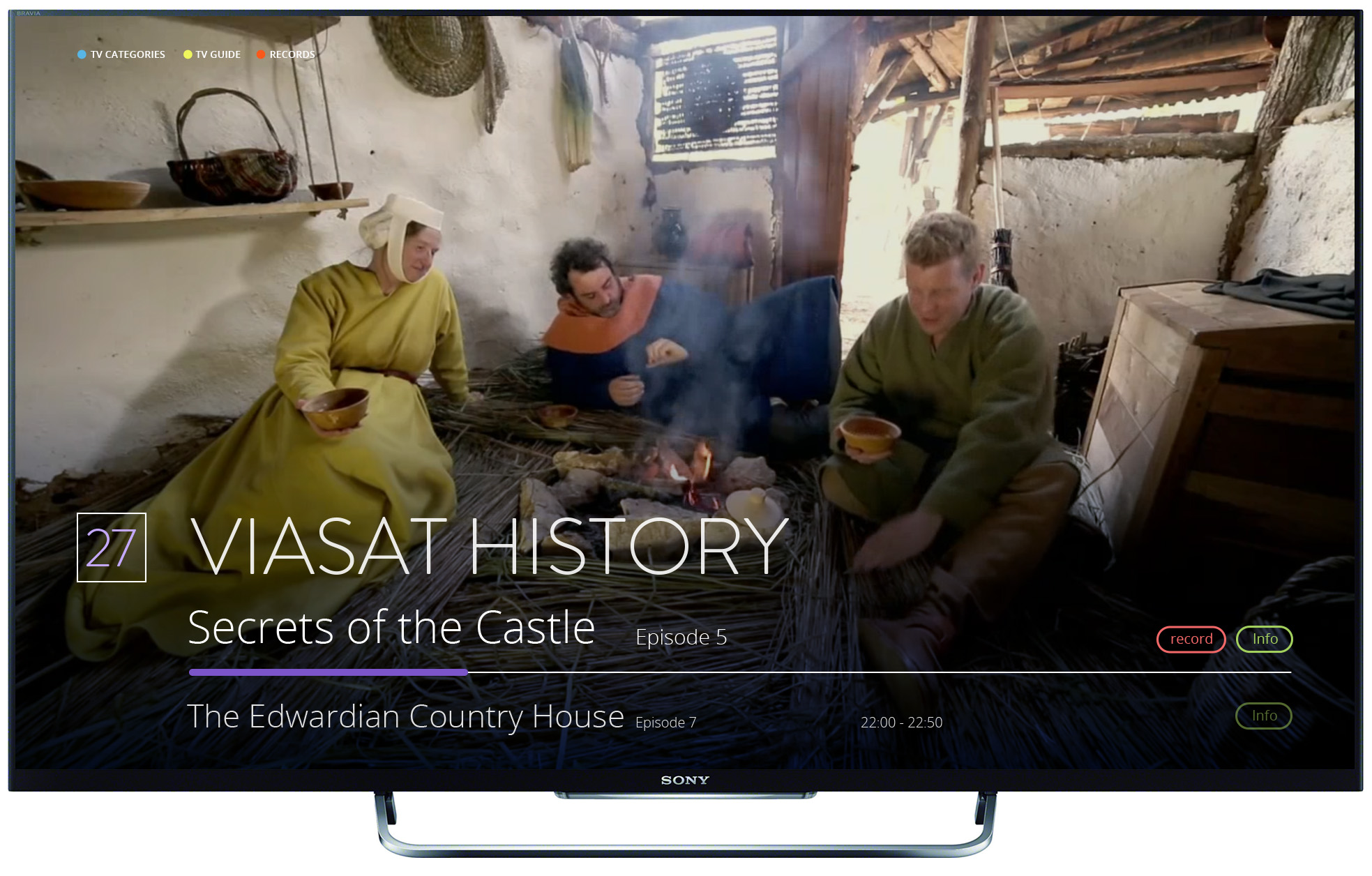 Dashboard [Home]
I consider it the heart of the TV, so I did my best to improve the interface and experience by having a user centered design. Added the missing On Demand option, removed the video tab (this one is part of the Media Center now). Videos don't need a separate tab since same content is on MC tab, it is just another item that confuses the user. How about one tap user switch? When opening the top right avatar it would let you edit your profile, update settings or switch to another user. Imagine that you and the other TV users can have accounts with different settings and options; color theme, social media, cloud tools, favorite channels. All of these tuned up to individual needs.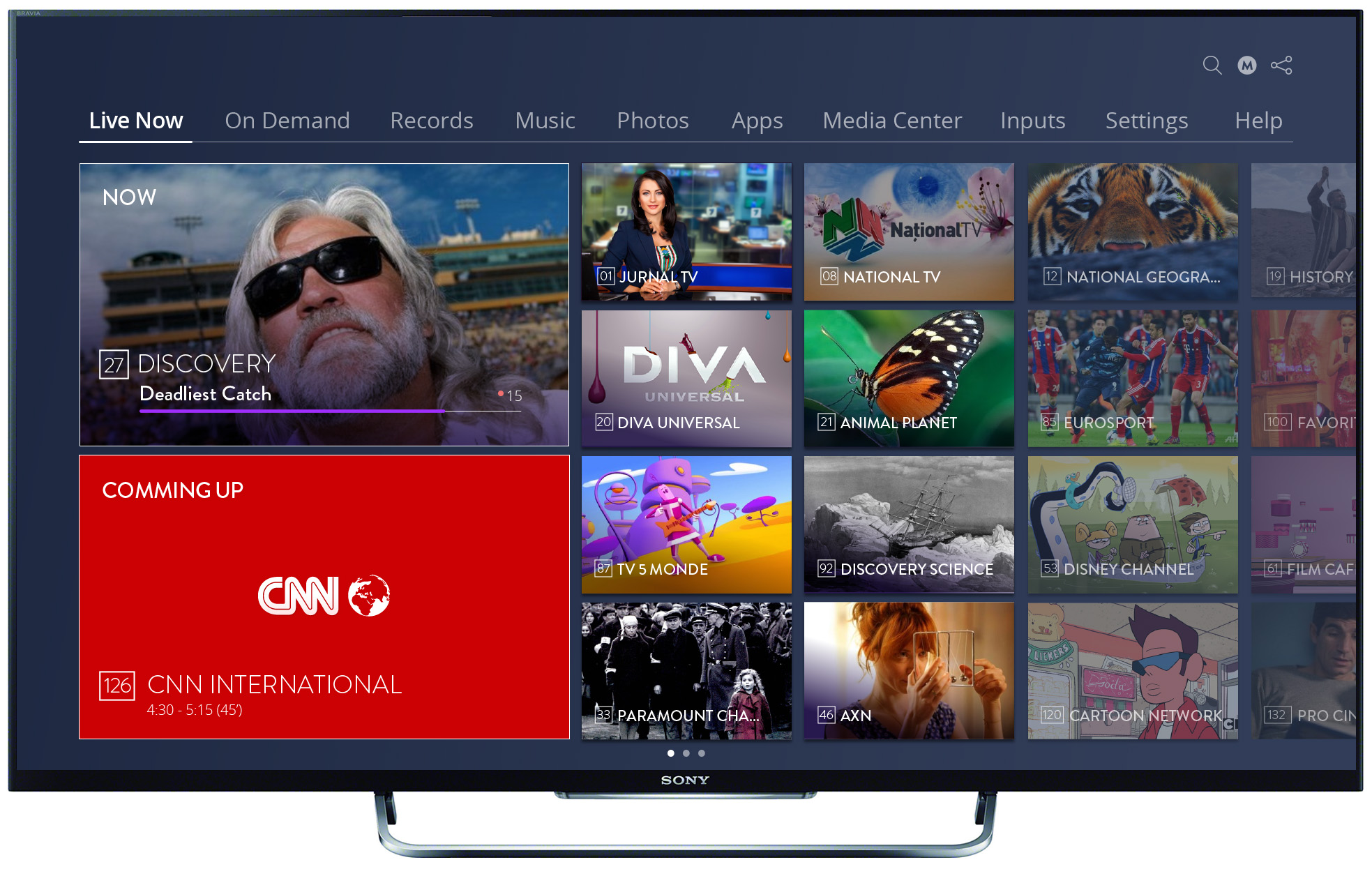 Discovery [Shortcuts]
Discovery is a button on the top, middle part of the remote control. Its purpose is to open the most useful options without interrupting your current experience.
On bottom part of screen it loads a horizontal list of thumbnails that can be navigated horizontally. E.g. first are the channels, clicking top/bottom buttons on remote control will switch to next list, e.g. youtube. The idea is great but it lacks implementation. I simplified the flow, added multitasking and linear navigation.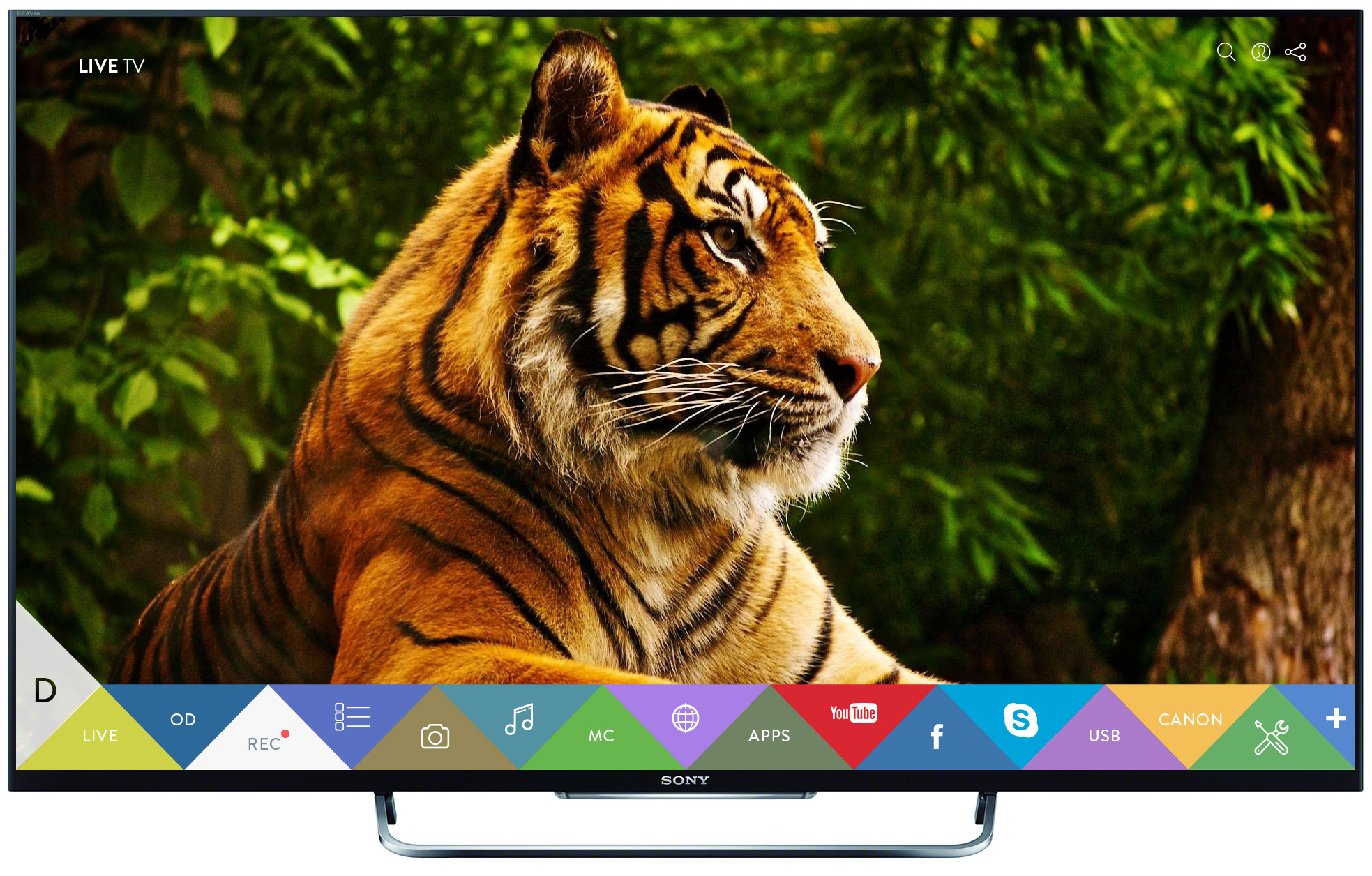 You are very patient, thank you!
Summary
The Sony Bravia Study Case is a new chance to improve my skills and test UX advices from latest book on my ToRead list.
Here are some statistics about the project:
Researches: 4 hours
User Interview: 2 hours
Informational Architecture & Functionality: 6 hours
Wireframe: 40 hours
Usability Testing (I round): 2 hours
Prototype: 30 hours
Usability Testing (II round): 2 hours
Total: 86 hours
 References
---
Have a project in mind?
Get in touch, let's discuss and make it real!